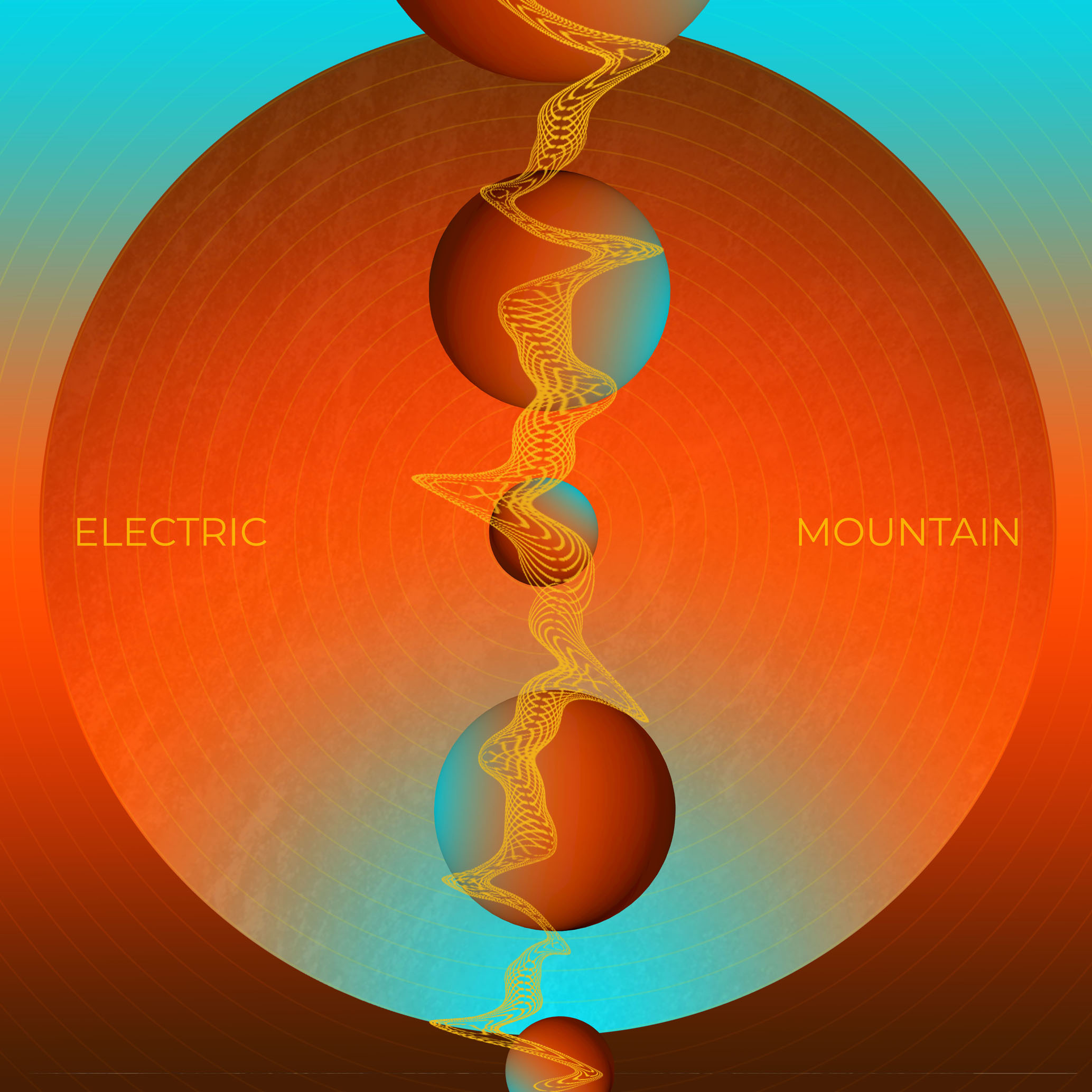 "I'm falling in love with the possibilities of electronic sound. All over again."
This 12-track collection brings together my love for the mountains, the natural elements and the technology that enables me to express myself so fully. As the sixth mass extinction is underway, themes include connection, conscious evolution, loss and belonging. I hope to feed your need for connection (with self and others and life itself), intimacy, hope and nourishment.
This is my fourth album, all produced and engineered by me on my laptop. "Electric Mountain" is gratefully supported by Help Musicians' Do It Differently Fund. The sound palette includes piano, voice, found sounds, a Covid adapted choir, software instruments and a sampled lithophone – like a xylophone but made of slate – real rock music!
I'm aware of the crazy wonderful state of the world. At the same time, I choose to be ultimately at peace and in joy so a lot of the "Electric Mountain" tracks have been described as triumphant. I get accused of being able to create 3D sound with stereo and I feel like I'm touching that immersive sound world that the listener can step into and be nourished by. I'm calling it sensual electronica. It's otherwordly but rooted in this Earth and our human experience.

Cooped up like many in 2020, the laptop became my orchestra, the sound weaving my creative sanctuary. It also took discipline to keep showing up and determination to complete "Electric Mountain" with numerous Covid related obstacles. The array of found sounds (eg. jangling oven shelves, a ping pong ball, a giant water bottle drum, climbing gear) stroke the balance between the adventurous and the familiar (you cannot beat an 808 kick at times). I may be a solo artist but "Electric Mountain" is a rich collective endeavour,  with lots of amazing people involved.
There's also re-works of recent commissions including two dance productions, a film soundtrack and a sonic response to Hayling Island. In my signature "one-woman electronic avalanche" style (BBC Introducing), "Electric Mountain" spans from lush ambient works to stomping triumphant tracks. Then there are some multi-lingual lyrics as I am European, being born in France and having lived in a few Euro countries (French, Spanish, German).
Credits – All tracks composed, produced and mixed by Caro C. All recorded by Caro C except piano recorded by Janet Wolstenholme; co-executive producer: Mandy Wigby (Sisters of Transistors, Architects of Rosslyn).
Photos – Caro by Shirlaine Forrest; album artwork by Andrea Pazos; fire pixie dress by Alison Hamilton; hair and makeup by Having a Hairmare.
Videos – by filmmaker Maria Ruban; first video to be published on 7 May and then throughout 2021.
new album "electric mountain" taster playlist
JOIN THE "ELECTRIC MOUNTAIN" COMMUNITY
Join my mailing list below and my social media channels to come on the "Electric Mountain" journey with me and be the first to benefit from my new musical offerings!

DELIA DERBYSHIRE DAY and ELECTRONIC MUSIC EXPERT
I have set up and run this electronic music charity. The archive of Delia Derbyshire (electronic music pioneer most famous for her iconic realisation of the original Dr Who theme 1963) arrived in Manchester at the same time I did. I felt someone needed to make a fuss of this gem of electronic music heritage. DD Day produces events, new art and (electronic) music education opportunities championing women & NB artists past, present and future. Delia Derbyshire Day is now set in the cultural calendar as 23 NOVEMBER – the date Delia's realisation of Ron Grainer's original Dr Who theme first beamed into British living rooms.

I am often invited to talk about Delia and the history of electronic music in the UK. I also worked as a researcher on Lisa Rovner's forthcoming feature film "Sisters with Transistors" about the pioneering women of electronic music.
I have presented talks at Synth Fest UK, Birmingham Conservatoire, Sound and Music's Young Composers Summer School and introduced "The Shock of the Future", a homage to the pioneering women in electronic music at Sensoria Festival (2019).

I am excited to be invited to be one of the hosts on the electronic music channel of a new podcast series by Sound on Sound magazine.
Electronic music making friends used to give me their old copies of Sound on Sound magazine when I was laid up and I would absorb the information as a fledgling producer/artist. And now this, it's a crazy wonderful!
We launched the channel with this interview with Suzanne Ciani who's a bit of an electronic music and synth legend, and a wonderfully not ego based successful artist.
Join me on my sonic adventures and hear about my new album!